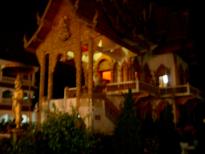 Thailand, November 2002.
Here are some pictures from my vacation to Bangkok and Chiang Mai. I can't put too much on this page due to size limitations, so I'll keep the pictures few and small. I think I took around 300 pictures altogether in those two weeks, although I've had to discard many. Still, I've got many more than you see here, and in better quality too! Let me know if you're interested in seeing them and I can show them to you, email them to you, fax them to you, whatever.
Click here for the pictures!